The Essential Pandeiro Method
by Scott Kettner
The complete pandeiro guide. Designed for educators and students of all levels.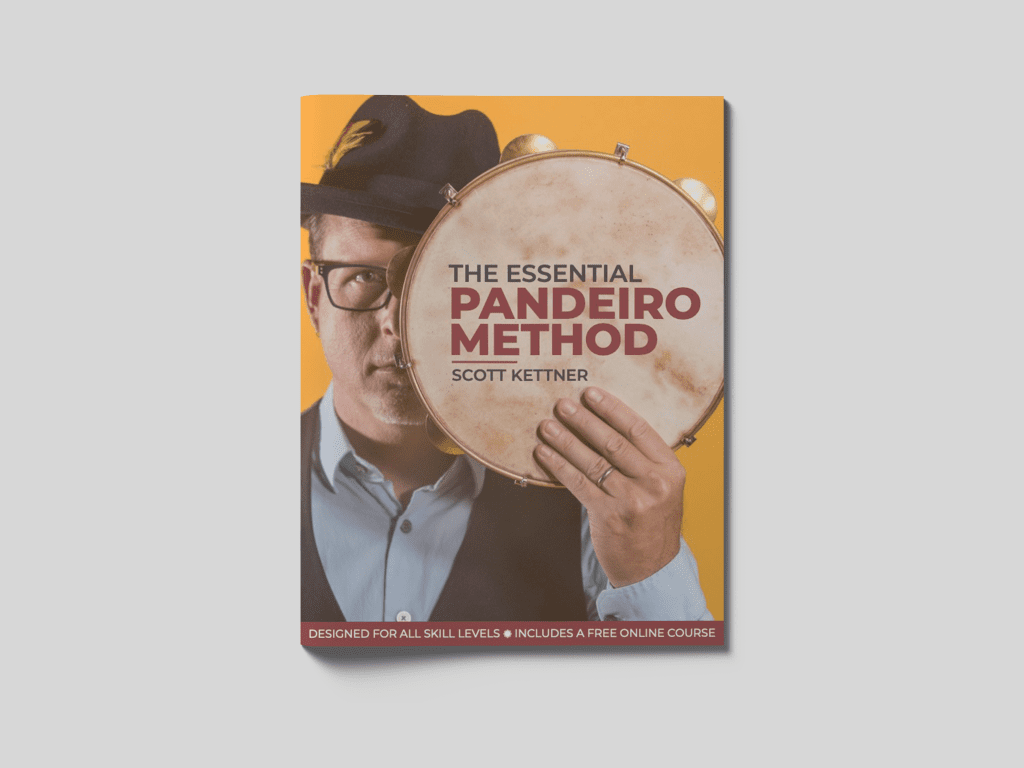 Already have the book? Visit the link or scan the QR code inside the book to access your FREE online companion course.
"Scott is an astute observer and is artful at clearly breaking down the nuances of Brazilian percussion. In his new book, The Essential Pandeiro Method, he clearly demonstrates his step-by-step process to developing the fundamental skills needed to play the pandeiro in a highly musical and fluid way. I've practiced some of Scott's methods myself and I highly recommend this book for anyone serious about learning the wonderful art of playing pandeiro."
Stanton Moore
Drummer/Galactic
The pandeiro book that grows with you. Available worldwide.
---
The Essential Pandeiro Method is designed to take you step by step in developing good technique. The book also explores different grooves and drum set approaches to the pandeiro. There are lessons suitable for absolute beginners and some that will challenge even the most experienced player.
Or order from a retailer…
My goal is to help you develop good pandeiro technique and grow as an artist.
Pandeiro Made Simple
A book designed to help you learn the pandeiro.
---
When you purchase a hard copy of The Essential Pandeiro Method you'll receive free access to an online companion course that I created to help you work through the exercises. I highly encourage you to take advantage of these video lessons, as they will provide insight, inspiration, and answer some questions you might be having about a specific example from the book.
BONUS: Get the Swingometer Practice App for FREE when you purchase a copy of The Essential Pandeiro Method.
Get the book today!
Or order from a retailer…
Book Details

Paperback Size: 8.5in. x 11in.
ISBN: # 9781667838526
Created & Printed in the USA
Copyright © 2022 – Scott Kettner
Book Credits

Written by Scott Kettner
Edited by Barri Anne Brown
Cover Design, Illustrations, and Layout by Gina Graves
Cover Photos by Jason Gardner
Additional Photos by Sasha Sinkler and Matthew Hamilton unless otherwise noted
Music Engraving by Scott Kettner
About the Author

When Scott Kettner looks at a map, he sees a direct line that connects the rivers of northeast Brazil to the parishes of New Orleans and the streets of NYC. A master percussionist, bandleader, producer, and songwriter, Kettner is the guiding force behind Nation Beat, a band whose teeming, vibrant rhythms find common ground in the rhythms of Brazil's northeastern region, the Big Easy's funky, hypnotic Second Line and strolling Mardi Gras Indians, and the unfettered freedom of big-city downtown jazz.
Student Reviews
---
Musical Growth
I wanted to say thank you for teaching me passionately about the pandeiro. I recently had a pandeiro recording gig and also made an instagram video of me playing which the real Herbie Hancock gave me a thumbs up on. Your online pandeiro course is really helping me a lot both musically and for getting gigs. Thank you.
Dino Kim
Best way to learn the pandeiro!
After a long period trying to learn pandeiro on a piecemeal basis, I joined the on-line Pandeiro Academy with Scott Kettner. The course and live workshops have given me a much more logical and musical approach to playing the instrument. Besides breaking down the techniques necessary to get the proper sounds, Scott also shows how Brazilian forms can be tied into Latin and North American rhythms. The on-line method for displaying scores, graphic info, music samples, and playing techniques is also much better than I've experienced on other on-line sites. I'd recommend the course to anyone ready to tackle the pandeiro.
Bruce Bond
Best Online Tool for Learning!
WorldDrumLessons.com is hands down the best online resource I have ever found as a percussionist. There are videos for every skill level, allowing the complete beginner to progress on their own in a comprehensive manner that rewards progress with tangible results; as a professional, I can bounce around to brush up on my own playing. The pandeiro course has been an incredibly useful tool, and every time I thought to myself 'oh I wish I knew more about this technique/skill/rhythm' or 'I should practice that' – you bet that Scott Kettner has made an amazing lesson to help, even if I didn't know where to start myself.
Riley Palmer
Awesome way to build stamina and technique
As a newbie pandeiro player with plenty of lockdown time on her hands, I found this course to be thorough and clear. With just enough challenge to motivate me without sending me into a panic, I found that, with a little dedication, my left hand technique has grown stronger and my clarity of tone is improving. Thanks Scott!
Jeanette Spicer